We are an Electric, Zero Emission Taxi Franchise. Safe, Reliable and Affordable. We are helping to connect people through sustainable travel. Based in the Thames Valley, the majority of our services are to and from London airports as well as accommodating for short and long-distance travel. This enables passengers to have a comfortable, hassle-free door to door service whether it be for business or pleasure whilst being more sustainable, more energy-efficient and kinder to the environment.

As of 2020, we have launched the Go Zero Network, a network of 1,000 electric taxi franchises across major UK cities and airports in the UK with an aim to expand sustainable electric travel for all.
WHAT OUR FRANCHISE OFFERS.
Being part of the Go Zero Network offers the franchisee the opportunity to purchase a 5-year licence enabling them to operate their own business under the Go Zero brand giving them the potential to earn between £30K and £50K after costs, based on performance. In addition, the franchisee will own the Tesla vehicle after the 5-year term.
The application process is straightforward, and the franchisee can be up and running in just 8-12 weeks after contract signature.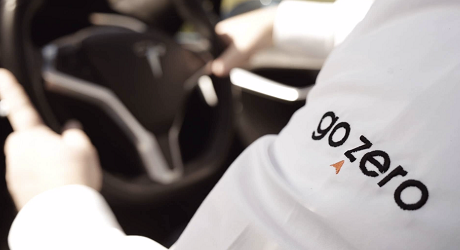 Be your own boss
Start your franchise from as little as £3,000*
Earn up to 50k per year*
Own your own Tesla
GO ZERO IS CREATING 1000 FRANCHISES ACROSS THE UK & IRELAND
FIND OUT MORE TODAY!