MOBILE COFFEE CAFÉ FRANCHISE
Run your own coffee shop on wheels- a stress free way to spend your day. Grab your slice of the UK`s booming £9.6bn coffee market serving gourmet coffees, frappés & smoothies and quality lunch items from our unique mobile cafés.
We've learnt a lot since I launched our first mobile café in 2010 and now have over 50 successful franchised coffee vans operating around the UK. We are proud to say that we were voted in the Top 100 UK Franchises for a third year running in 2020.
We are constantly innovating and, as well as the unique features on our coffee vans, we have also secured our position as market leaders in the industry with the launch of our new customer app. The app allows customers to pre-order and pre-pay for their drinks and includes a number of other ground-breaking features that improve customer experience and franchisee profitability. For full details hit one of the live chat functions on the right - we'd love to demonstrate how the app works and how it's changing the way our franchisees interact with their customers.
We are looking for new franchise partners who have a social nature (enjoy a chat and building rapport with their regular customers), have a get-up-and-go attitude, and who will appreciate the value in following a tried and tested business model.
It's important to us that our franchisees enjoy running their businesses and work well with us - start a live-chat with us today to get a good feel for how we like to operate and what it will be like working with us as we support you in growing your business.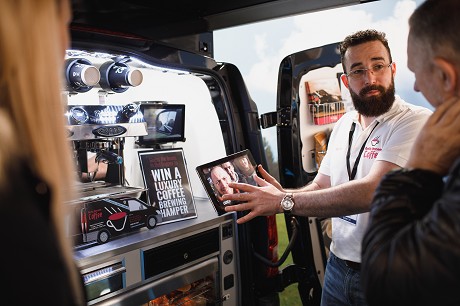 Our franchisee training and business launch program is based on years of success within the mobile coffee industry and has been designed not only to make sure you have the tools and knowledge to run a successful mobile café business, but also to get you off to the fastest possible start and making money as quickly as possible.
To learn more start a live chat with us today!